Back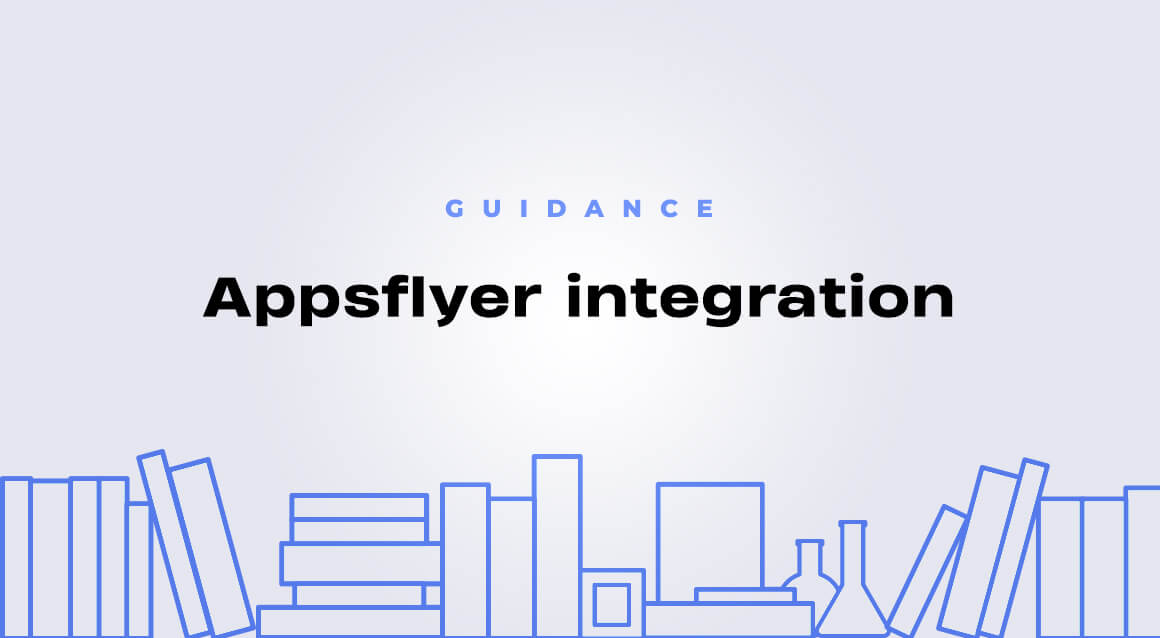 Reliz/Appsflyer integration guide
Go to Configuration - Integrated partners
Find "Reliz" agency 
Enable Agency permissions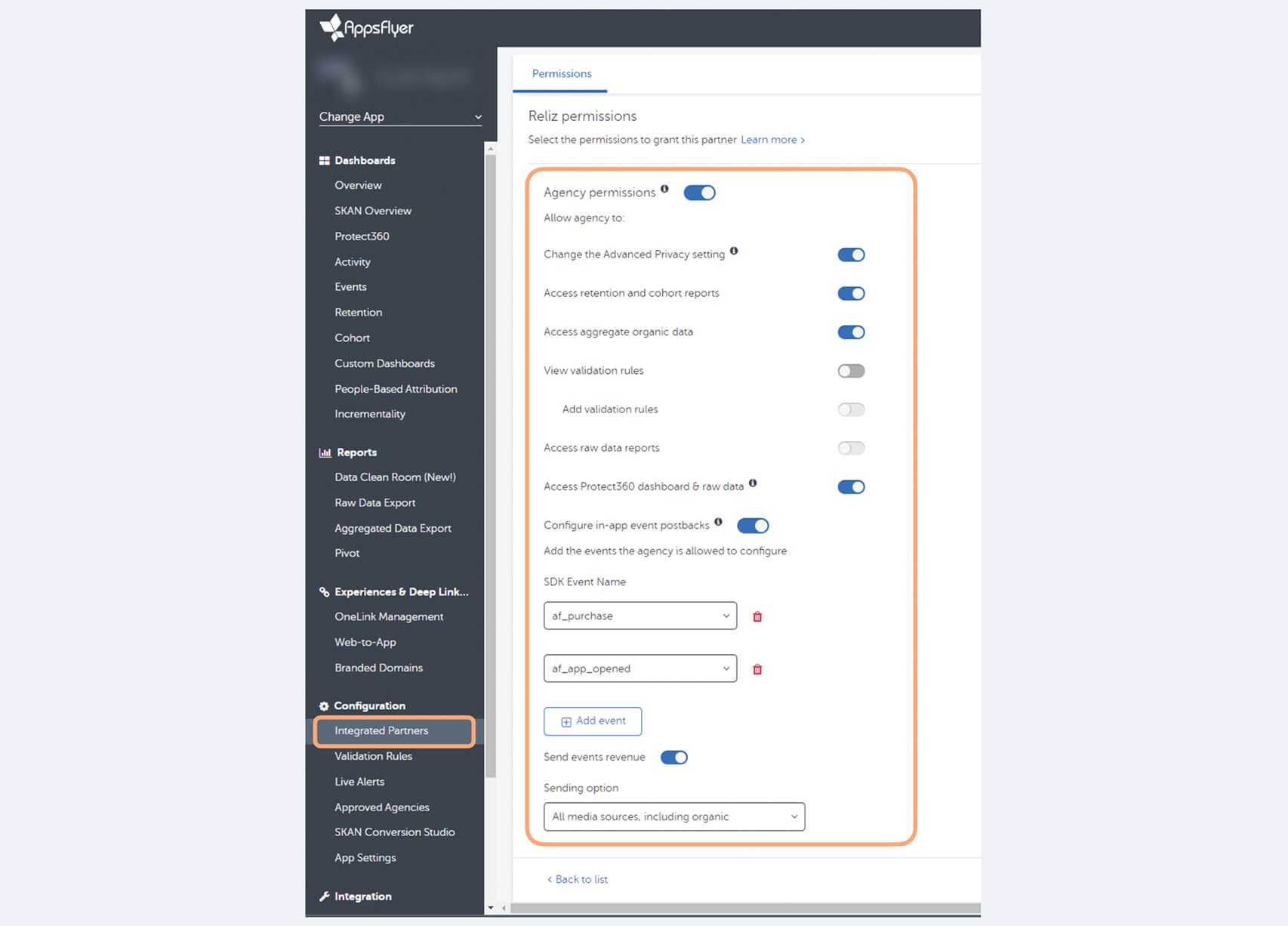 Change the Advanced Privacy setting - ON
Allow the agency to change an ad network's Advanced Privacy data sharing setting. The Advanced Privacy setting per partner can be set individually.
Once AAP is disabled in App settings, Reliz needs to disable it in ad networks as well to launch iOS14.5+ ad campaigns.
Access retention and cohort reports - ON
Retention/cohort data created by the users brought by the agency only.
Helps to analyze and optimize performance.
Access aggregate organic data - Optional
Helps to compare non-organic and organic data
Access raw-data reports - ON
Get raw data reports relating to traffic attributed to the agency.
Helps to dig deeper into traffic and analyze discrepancies/issues/points of growth etc.
Access P360 dashboard & raw data - ON
The agency can access your Protect360 dashboard.
Can access raw data if you subscribe to one of the following: Protect 360, Validation rules, or raw data.
Can view and add rules with Protect360 conditions.
Allows agencies to identify media sources that P360 might verify as fraudulent. This will help to further investigate the issue and optimize media source list.
Configure in-app event postbacks - ON
Permit the agency to set up in-app event postbacks mapping to itself on the integration tab.
Allows to optimize towards deeper goals and bring better performance (quality and budget wise). Additionally 
For example: After sending af_app_open event postbacks, we can optimize towards users with high Retention Rate
Set up:
Postback sending option: all media sources, including organic (More info)
af_app_open 
af_purchase 
Events, that are necessary in the user flow (at least payable action)
---
Go to "Configurations - App settings"
Toggle OFF Aggregated Advanced Privacy
Toggle ON View-through via probabilistic modeling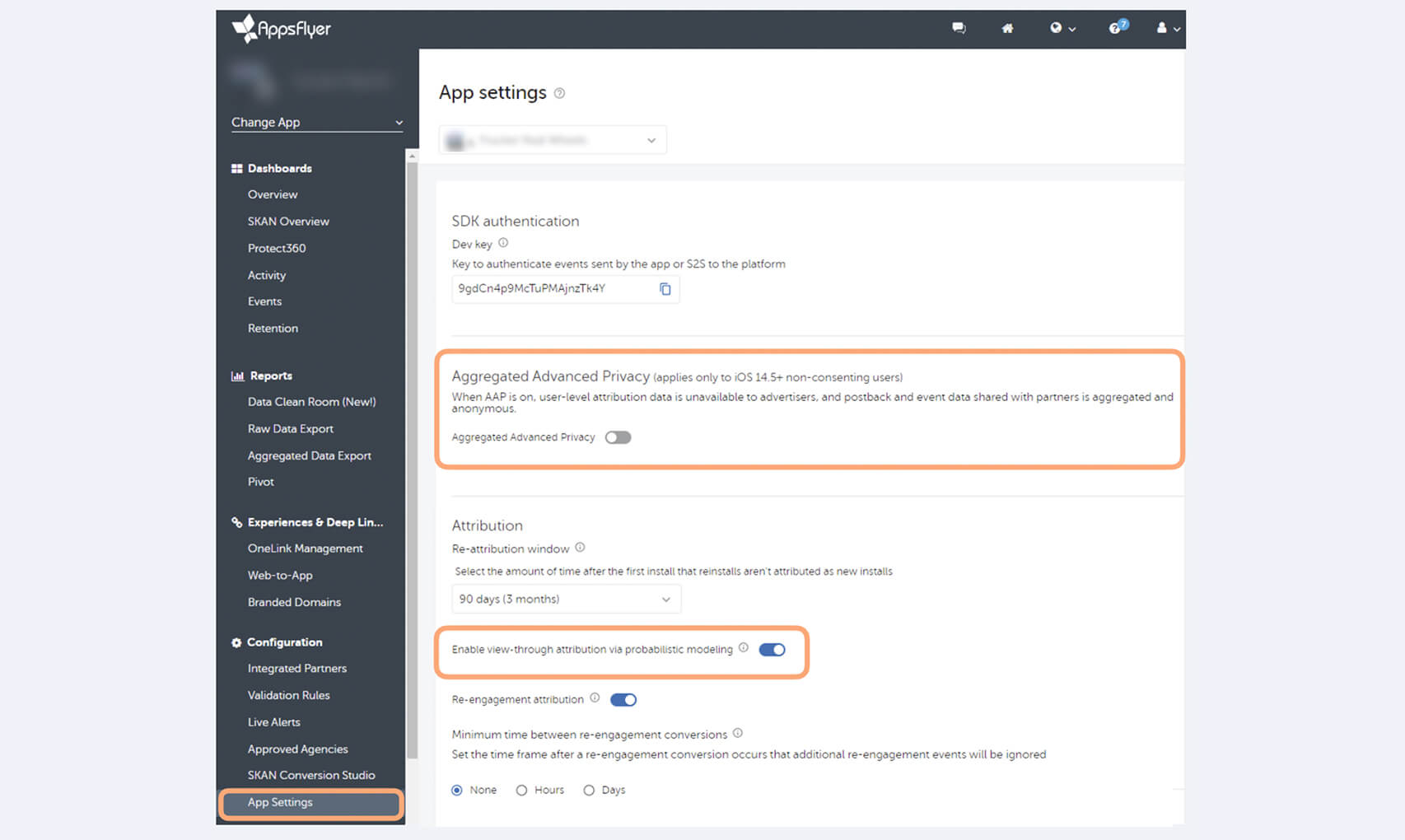 Aggregated Advanced Privacy - OFF
AAP enabled
Aggregated attribution is available. Advanced Privacy partner switches are turned on and can't be modified. 
AAP disabled
Aggregated attribution is available. User-level attribution data is available for advertisers. The Advanced Privacy setting per partner can be set individually.
When AAP is disabled, user-level attribution data will be available for IDFA matching attribution, which will help to optimize ad networks' algorithms better. 
IDFA is not used for data storage/sharing only for backlog user matching and postbacks!
Aggregated attribution is not enough, as there are no postbacks to ad networks in that case. After disabling AAP, you can enable/disable it for specific agencies or ad networks.
View-through via probabilistic modeling - ON
Enable view-through probabilistic modeling in addition to click-through attribution which is always enabled. After enabling view-through probabilistic modeling, you must also enable view-through attribution in the ad network integration tab.
Needed to effectively work with iOS 14.5+ users (More info)
Please note: without these 2 settings, we are unable to run iOS 14.5+ ad campaigns!
---
If you have any questions, please reach out to your personal Client Success Manager or write to info@reliz.com