Back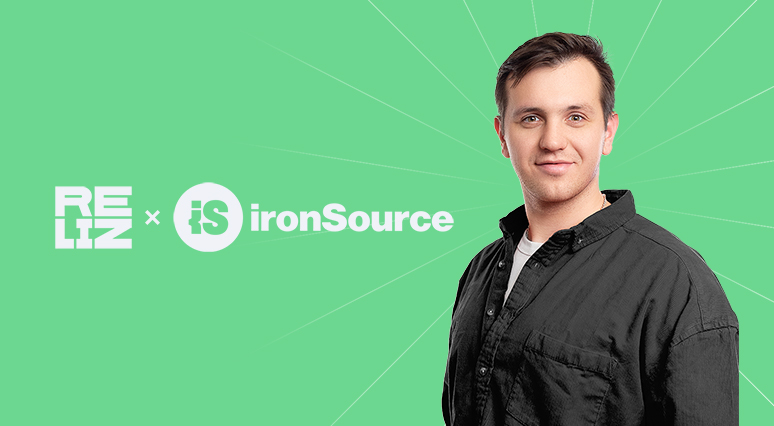 How app agency Reliz increased buying power and drove D1 retention 25% with the ironSource Network
One of the apps they work with, a large social and video editing app with over 10M downloads, began running with the ironSource Network at scale. Read on to learn how Dmitry Karpik, Head of Performance at Reliz, increased buying power and acquired the highest-quality users for the social and video editing app utilizing the ironSource network.
---
"Our team at Reliz noticed that traditional social and search channels were no longer providing incremental growth for our app advertisers. However, in-app ad networks were beginning to take the largest share of many of their channel mixes. 
Looking to stay competitive with the market, we started running campaigns with ad networks to grow our apps' user bases and reach their KPIs. The recent ironSource merger with Unity opened up doors for the ironSource Network to grow its supply. It was a no-brainer to start running campaigns with ironSource to increase the amount of high quality volume we offer our clients. 
At the very beginning of our collaboration with ironSource, we explained that we wanted to remain cost-efficient while continuing to scale. The first thing the team at ironSource suggested was to unify all of our campaigns into one and to maintain a shared doc with our KPIs to increase transparency. 
Based on our goals, the ironSource team then sent us bid recommendations that offered insight into sources with the highest potential for growth. From there, together, we worked on optimization - adjusting bids, refreshing creatives, and more. This was a huge benefit considering we have to do all of the optimization ourselves on other networks.
---
---
The team at ironSource gave us great insight and tips to grow with the network. Without their support and valuable communication, we wouldn't have as much success.
ironSource also helped us to test playable ads to improve our IPM - which was a huge goal of ours, since it would enable us to continue growing and achieve a competitive advantage. Almost half of our creative assets hit new IPM goals every day, meaning we were able to scale while staying cost-efficient and profitable for our client. 
We saw excellent results working with ironSource, driving scale for the social and video editing app while staying cost-efficient. By lowering our bids, we were able to encourage our client to devote more of their UA budget to in-app advertising, and specifically the ironSource network. 
---
---
Comparing channels, our clients care most about acquiring users who will go to the app everyday and remain loyal. We see that new users acquired through ironSource have greater LTV and retention than the users acquired from any of the other channels we run with. 
We look forward to continuing our successful partnership with ironSource and optimizing our campaigns, including working with Luna. "
---
Check out the full material via the link: https://lnkd.in/eeUykS-r