Back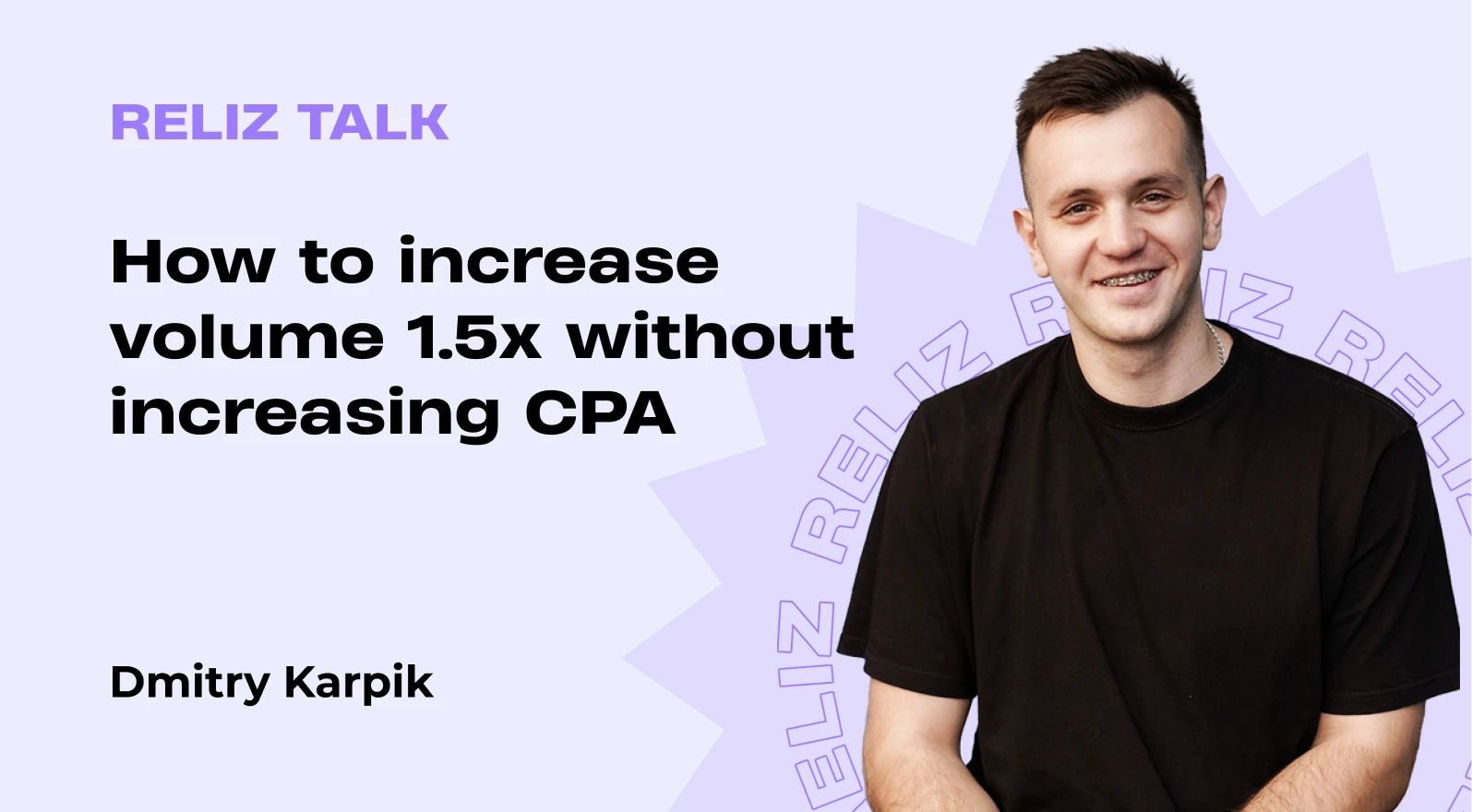 How Reliz Increased Volume 1.5x Without Increasing CPA
Hi! This is Dmitry Karpik, Head of Performance at RELIZ Global Digital Partner. We develop and implement effective marketing strategies to help businesses reach their customers in the digital space.
One of the directions in our company is mobile performance marketing.
We're experts in in-app traffic for our clients, with a deep understanding of creative concepts and the use of advanced technologies to increase performance indicators that help us buy more quality traffic at the lowest cost.
We are known for our trailblazing initiatives in testing new placements, innovative creatives, and optimization models, which have proven highly effective strategies. 
Our goal is to showcase the positive results of our collaboration with Mintegral and illustrate how their exceptional advertising network enhanced our efficiency while avoiding any additional expenses for our partnered financial apps.
As a data-driven programmatic and interactive ad platform, Mintegral helps app developers worldwide simplify marketing challenges via user acquisition, monetization, and creative solutions.
When it comes to user acquisition, Mintegral provides versatility by supporting various pricing models, including CPI and CPM. It facilitates developers in reaching their desired ROI by implementing a Target-ROAS bidding strategy. Leveraging Mintegral's CPI pricing model, developers can efficiently secure high-quality users and reach global premium users at a competitive cost.
Mintegral's algorithm system, supported by a robust global traffic network, can methodically process vast quantities of third-party data while strictly maintaining user data privacy. This system persistently refines its machine-learning model through this process.
With privacy-safe, multi-dimensional data accumulation such as IPM, eCPI, and CTR, Mintegral is able to further empower advertisers with data-driven UA strategies, acquiring premium users at developers' desired CPI goals.
Nevertheless, for apps that have amassed a significant user base, the task of acquiring high-quality users at a comparatively low CPI, while maintaining a high eCPM, presents a substantial challenge.
Various strategies can be employed to increase eCPM while operating within the CPI model, although one of the most effective methods we've identified was utilizing playable ads. The objective for Reliz in this context was to increase traffic volume by 50% at a predetermined CPI, while ensuring user quality was compromised. 
Upon comprehensive review and optimization of all our ad placements, alongside an in-depth analysis of individual publishers by our creative team, we managed to enhance both the volume and overall eCPM by improving the IPM. However, the achieved volume fell short of our expectations. This is where our dedicated team of designers stepped in and innovated by crafting playable ads.
Here, we utilized Mintegral's Playturbo, a comprehensive creative production platform, to develop a variety of interactive video concepts suitable for financial verticals. We designed between three to five unique scenarios for each call-to-action button. Consequently, users were guided toward a narrative that best matched their expectations.
To this end, one of the creative concepts demonstrated an immediate surge CVR, leading to a 20% uplift in the campaign's overall eCPM. This enhancement led to a 50% traffic increase without affecting the cost-per-targeted event. Furthermore, the client reported that users acquired via these playable ads generally exhibited a higher LTV.